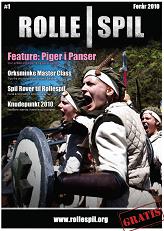 I wanted to start out the year with some good karma, by throwing out link love out to all the hard-working larp magazines out there.
From Abroad:
International Journal of Roleplaying — where the big kids of roleplaying theory come out to play. I wish their site had permalinks, though.
LARPzeit — a German (?) larp magazine with an international edition printed in English. Even includes some costume patterns.
Playground Magazine – an international magazine originally based out of Norway about the "new wave" of roleplaying. You can subscribe or purchase .pdf copies. A nicely-produced magazine with some pretty interesting articles. UPDATE: Apparently, Playground will not be closing as previously reported. Rather, as a commenter pointed out, it's continuing under new Danish management.
Interacting Arts — OK, not really a magazine so much as a collective of larpers, based out of Sweden, I think. But they've got some interesting theory up.
Rolle|spil — I hope you read Danish, because if you don't, you can't read this.
Meanwhile, in the US…
While there are some (largely corporate-linked) US tabletop RPG magazines out there — Kobold Quarterly, The Crusader, Dragon, etc. — for the most part, I haven't been able to find any active American larp magazines. Examiner.com's larp vertical is the notable exception. In addition to the national column, Examiner.com has regional columnists in Minneapolis, Los Angeles, Albany, and more.
Otherwise, the best I've got are the archives of some now-defunct ventures:
Metagame — this larp magazine ran from 1988-2000; it was the official magazine of the Society for Interactive Literature (SIL), a predecessor of LARPA. Full archives available.
LARP Magazine — ran from 2006-2007. It's got practical tips on how to larp and a little coverage of the US scene. Full archives available.
The Larper — a magazine that ran for two issues in 2001. Appears to be associated with LARPA.
Dreaming Larp Magazine — a nicely-designed one-time magazine that documents a larp run at SUNY from 2002-2010.
Interregnum — a roleplaying magazine that covered some topics in larp, ran from 1995-2001 out of Cambridge, MA, before folding. Some articles and a sample back issue are available at the link.
Alarums and Excursions — I can't tell what sort of content this California-based magazine has, since there's none on the website, but it appears to be a tiny magazine that is still issuing subscriptions.
Maybe this is an opportunity for some enterprising US larper to cater to a new market.
Know of more larp mags? Hit me up in the comments.