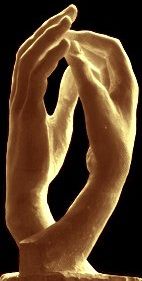 Larps need love.
Think about it: in a typical larp, your character is far more likely to kill something or die than she is to fall in love. The ability to play romance and love safely would open up a whole new vista of possible plots and character developments.
This is why you, oh roleplayer or game designer, should come to my Ars Amandi workshop at METATOPIA on the morning of Saturday, November 5, and learn this fascinating Nordic mechanic for representing romance. Ars Amandi is sort of like boffers for lust, a valuable design tool for anyone who wants to open their larp to new frontiers, by structuring player experiences beyond violence.
Participants engaging in Ars Amandi touch one another on the arms and shoulders, lightly and firmly, playfully and forcefully. During the workshop, we will be exploring different modes of touching in a safe, structured environment. Due to the nature of the mechanic, I'm limiting the workshop to those 18 and older.
I know Saturday mornings can be tough, so there will be free donuts and coffee available. Come wearing comfortable clothing and prepared to get intimate with strangers' arms.
Stay tuned for more information about Ars Amandi, including a forthcoming interview with Emma Wieslander, the Swedish roleplayer and game designer who created the technique.
I'd love to hear from folks who have Ars Amandi experience (larping or teaching) in the comments, as well as from people with questions or concerns.
To read more about Ars Amandi, check out Wieslander's pieces in the free download of Beyond Role and Play, or check out the Ars Amandi Facebook group (from whom I borrowed the above photo). There's also Jonas Barkå's post about the technique and a bevvy of links available from this Lumpley thread.